Phil Jackson loves LA. He loves the short commute from his Playa Del Ray home to the Lakers practice facility in El Segundo. He presumably loves born and bred Los Angelian and owner's daughter Jeanie Buss. He certainly loves the laid back California vibe. And now, he also apparently really loves the 2 year $24 million contract extension he got from the team.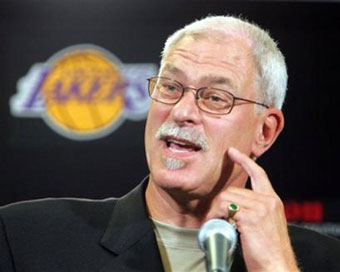 But, while we're happy for Phil and his 24 million new GWs, the first thought that came to mind when hearing this news, just like every other Laker-watcher we're sure, was, "does this have any Kobe implications." Jackson himself was quick to address that question, telling a press room full of curious media on Thursday night, "The decision to return as coach and the decision to be asked to return as coach both had very little to do with Kobe Bryant and very little to do with the talent. It's about the situation here -- the proximity that I feel to this organization, the comfort I feel working for this organization and the progress I think we're making."

Ok, fair enough Phil. We understand that you can't speak for Kobe. The proper messaging, for you folks in PR, was for Phil to address his own situation and not create unnecessary news by tieing it into anything related to Kobe, the trade demands and the summer of discontent. As always, nicely played Phil. Still, while $24 million is certainly plenty compelling, Jackson isn't hurting for money or employment opportunities should he decide to leave Los Angeles. So, why then do you lock yourself in to 3 seasons with a team and an organization that seems to be teetering on the edge of chaos?

The Lakers squad as it is constituted today is nowhere near championship caliber. Young players like Jordan Farmar and Andrew Bynum, while showing some talent of late, is just as apt to induce a migraine headache with their still inconsistent play, as they are to garner praise. The GM is inept. They're possibly one long losing streak, or Kobe outburst away from all hell breaking loose. The owner's son doesn't get along with the team's superstar, and the superstar's personality is bi-polar at best. So, unless Phil knows something that we don't, as much as he loves LA and the $12 million per season, the extension just doesn't add up.

Is the house that Jerry, Phil and Kobe built getting structural reconstruction behind the scenes? No-one on the outside looking in, from sports writers to fans, know the answer, but the circumstances, as they are, certainly make you wonder.

What we do know though is that Kobe seems happy – or happier. His much-maligned teammates are playing relatively well, he seems content with the role of facilitator and everyone is all smiles.

"I think it's great," Bryant said of the signing. "He's clearly, in my opinion, the greatest coach of all time. When you can lock him in, that's always a great sign."

Sign of what? That the Lakers are finally showing Kobe that they are serious about winning?