Shaquille O'Neal is easily the most imposing player in the history of the NBA. Standing at 7 feet 1 inches and anywhere from 310 on a good day to 360 pounds, O'Neal paints an imposing figure, particularly for opposing Centers. But, off the court, O'Neal is one of the nicest, friendliest and kindest players in the league. So, as reports leaked out today that "The Big Aristotle" had filed for divorce from his long-time wife Shaunie, the news came as somewhat of a shock to the NBA community. Heat coach Pat Riley called the news devastating and saddening.

"I'm going to reach out to him today and find out how he is doing, and I hope everything works out," Riley told a local Miami radio station. "But obviously, it is not the kind of news that you want to hear about one of your friends and also one of your players."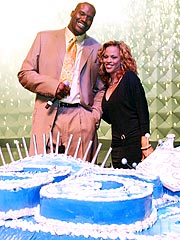 Things must have disintegrated rather quickly in their long-running marriage, as the couple were just recently seen together at the ESPY awards in July, happily enjoying the celebrity-laden event. In fact, last year in an interview with
USA Today
, Shaunie only had the nicest things to say about Shaq.
"My 6-year-old still thinks Daddy can come through a wall. He thinks Daddy is really Superman," Shaunie told the paper. "It's hilarious the things he does to make them still believe that Dad has these magic powers. He says that when the kids grow up, he wants them to always know that he tried to be the best father he could be."
We wish the big guy, and Shaunie, the best of luck.