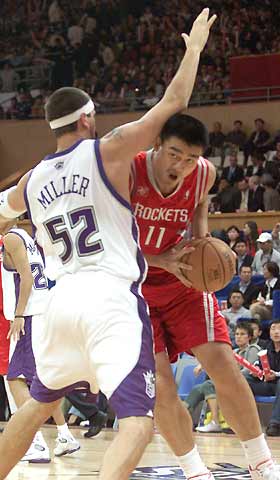 Yao Ming is a gentle giant, one of the nicest people in the NBA. And, on the basketball court, he has considerable skill sporting a sweet jumper, deft passing skills for a big man and a nice fadeaway in the post. If there's a weakness in Yao's game it's that he is seriously soft in the paint. Apparently, new Houston Rockets head coach wants to play to Yao's strengths and hide his one major weakness by turning him into a high-post finesse center. Makes sense to us.
"I do not think it's hard to get used to the new style," Yao said before the Rockets first pre-season game. "I have been learning his offense throughout the off-season. I know I need some time to get fully involved. But it will not be a problem."
Word out of Houston is that Yao will essentially assume the Brad Miller role in Adelman's offense, with a pinch of post play thrown in. So, this season expect to see Yao spend a good chunk of his floor time running perimeter pick and rolls and directing traffic from the top of the key. Should be interesting to watch how Yao adapts to his new role as shooter and perimeter passer, but our take is that Adelman's motion based offense, along with Yao's new perimeter-friendly role, should seriously improve the Rockets' scoring average from a year ago.